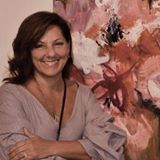 Like Matisse who has always been my greatest inspiration, I choose to send positive vibes through my work.
I want my art to be a refreshing, positive pause from all the negativity we see and hear everywhere.

Colours are what drives me, I love them! Even though I am constantly concerned with composition and harmony, energy, spontaneity, sensuality and passion are emotions, which are omnipresent in my paintings.

Between the agony and the ecstasy of the creative process I give it my all. I paint from within which allows me to fully express my own true colours."
Born in the province of Quebec, Canada she lives and works in the Miami area.
Savard studied Fine art at Bishop's University and has been focusing on her art on a full time basis since 1999.
Being represented by various galleries throughout Canada and the United States, she is a well established Canadian artist with a growing reputation in Europe and the United States. Her art is collected around the world both in private and public collections.
Education
2001-2003
* Bishop's University (St-Lambert)
Visual art certificate
* Les ateliers d'art Seymour Segal (Montreal)
Workshop: transformation, collage and painting

2000-2001
Académie Arts et Beaux-arts (Varennes)
Study of composition, drawing, painting, history of art and live model with Sam Aberg, historian and art critic

1991-1992
Académie des beaux-arts Sylvia Araya (Quebec)
Study of drawing, pastel and oil painting

1988-2003
Varied workshops

Galleries
* Stephen Lowe Art Gallery, Calgary, Alberta 2018-
* Celeste gallery, St-Sauveur, QC 2015-
* Ryan FineArt Gallery, Port Carling, Ontario 2015-2018
* Coconut Grove art gallery, Miami Florida 2014-
* International art agency Mensi-Rioux 2013-2016
* Las Olas Fine Art, Fort-Lauderdale, Florida 2013-2016
* Tangerine-Gecko, Markham, Ont. 2013-2014
* In2Art, Oakville, Ont. 2013-2020
* Maison Dupont art agency Quebec 2012-2013
* Latitude gallery, Calgary, Alberta 2011-2018
* Koyman galleries, Ottawa, Ont. 2004-2019
* Galerie Maistre, Trois-Rivières QC 2006-2008
* Rufus gallery, Oakville Ont. 2006-2013
* Le Balcon d'Art, art gallery, St-Lambert, QC 2002-2008
* Beauchamp art gallery, Charlevoix, Quebec, Toronto 2002-
* West End Galleries, Edmonton, AB and Victoria, BC 2003-2004
* Richelieu art gallery, Montreal, QC 2004-
* Le Luxart gallery, Montreal QC 2005-2016

Solo, juried and group exhibitions
* Coconut Grove Art Gallery, Miami (duo exhibition), 2016
* Richelieu gallery, Montreal, Qc (solo) June 8th to 20th, 2014
* Southern Nevada Museum of art, Las Vegas, USA September 21st to November 23rd, 2013
* Toronto ArtExpo, April 2013
* New York ArtExpo, New York USA March 22-24th, 2013
* Richelieu gallery, Montreal, Qc (solo) May 20th to 26th 2012
* Richelieu gallery, Montreal, Qc (solo), May 15th to 21st, 2011
* Richelieu gallery, Montreal, Qc (solo), November 22nd, 2009
* Richelieu gallery, Montreal, Qc (solo), fall 2008
* Gallery Rufus, Oakville, Ont (solo) April 27th-May 11th, 2008
* Carrousel of the Louvre Museum, Paris (group) December 13th to 16th, 2007
* Richelieu gallery (solo) November 19th to Dec. 4th, 2006
* Luxart gallery (duo) October 28th to November 12th, 2006
* Berre les Alpes, France (group) Sept. 4th to Nov. 4th, 2006
* Balcon d'art gallery (solo) June 11th to June 25th, 2006
* Richelieu gallery February (solo)26th to March 12, 2006
* Berres les Alpes, France (group) September 15th to Oct. 15th, 2005
* Limoges, France (group) 2005
* Richelieu gallery, Montreal (solo)June 3-17, 2004
* Miami (group) 2004
* Art-et-Miss gallery, Paris (group)2004
* Bishop's University, St-Lambert (group) – 2002, 2003
* Symposium Festiv'art, Frelighsburg, Juried exhibition - 2002
* Edouard-Montpetit college, Longueuil (group) – 2002
* Ogilvy, Montreal Juried exhibition - 2001
* Boutique Peggy Charlton (interior designer), Longueuil (group) – 2001
* Broward Art Guild, Fort-Lauderdale, Fl Juried exhibition –1997
* Hollywood Beach Resort Gallery, Hollywood, Fl – 1997-1998

Awards and prizes
* Winner of the 2e place at the symposium of Frelighsburg 2002, Lotto Quebec prize
* Winner of the people's choice award - « controversy » exhibition Fort Lauderdale, Fl 1997

Professionals activities
* Participation in the show " Telles Qu'elles" (direct painting), Club Soda, Montreal, QC 2003
* Atelier de peinture La Signature 2003- Teaching of drawing, composition and painting
* Atelier de Créativité (personal studio) – 2001-2003 Teaching of drawing, composition and painting
* Illustration of the book « La parfaite hypothèse de la deuxième tragédie du Titanic » from Alain Gendreau 2002
* Front page of the book " San au Clair de Lune" 2005
* Member of the board of directors for the artist association « Coalition des artistes de Long'œil 2003-2005
* Professional member of the Regroupement des Artistes en Arts Visuels (RAAV)

Press
* Maison & Jardin magazine January 2020, page 110
* Featured artist on Artsy Shark, 2017 Featured Artist Doris Savard | Artsy Shark | Inspiring Artists to Build Better Businesses
* Three of my paintings appearing on the Bravo show 19-2
* International Contemporary Masters volume 7, page 332
* Traces magazine, february 2012, pages 10, 11
* Blog interview, 2010
* Parcours magazine, spring 2008 pages 86, 87
* Parcours magazine, 2007
* Parcours, january 2006, pages 70, 71
* Where magazine décember 2003
* Magazinart, autumn edition 2003, pages 85-87, 115-117
* Journal « La Voix de l'Est, august 2002
* Journal « EastSider », march 1997